First of all, let's establish what LOD stands for. Is it level of development or detail? People seem to use it interchangeably.
Development vs. Detail  – The History
According to the American Institute of Architects (AIA) release document E202 (AKA The Building Information Modeling Protocol Exhibit) LOD is an acronym for Level of Development (BIM Content Development: Standards, Strategies, and Best Practices by Robert S. Weygant).
The confusion stems from the fact that the acronym LOD was originally used by Vicosoftware — a construction costing software company – to stand for Level of Detail. The company was one of the first to develop techniques for pricing directly from building information models, and used LOD to track how definitive price estimates were.
When the AIA adopted this very reasonable concept they (…wisely or unwisely…) kept the acronym LOD, but changed it to mean "Level of Development" instead of "Level of Detail." The idea was that the word "detail" would be interpreted as graphical detail, but "development" referred to the level of certainty about an object on mode than a graphical level.
What does level of development actually mean?
I'm going to draw on a very well written blog on the topic from Practical BIM by Antony McPhee:
"Level of Development", is a measure of how seriously you take the information represented by a BIM element. It is not necessarily a measure of the amount of information, although obviously there must be enough information to satisfy the LOD level it is at. It is also not a measure of the amount or accuracy of graphical information. The appearance of a BIM element is only one piece of information about that object, and usually the least important. A contractor doesn't need to know what a desk looks like to order it, nor to place it in the building. But they do need to know what the manufacturer and model number is. Others may need to know its dimensions to coordinate with things around it, but they too do not necessarily need to know what it exactly looks like.
Below is graphic representation of the concept. As the LOD increases we get more information about the beam, although graphically that may not indicate a huge jump such as between LOD 200 and 300.
Here is an alternative image of a piping project at various LOD levels.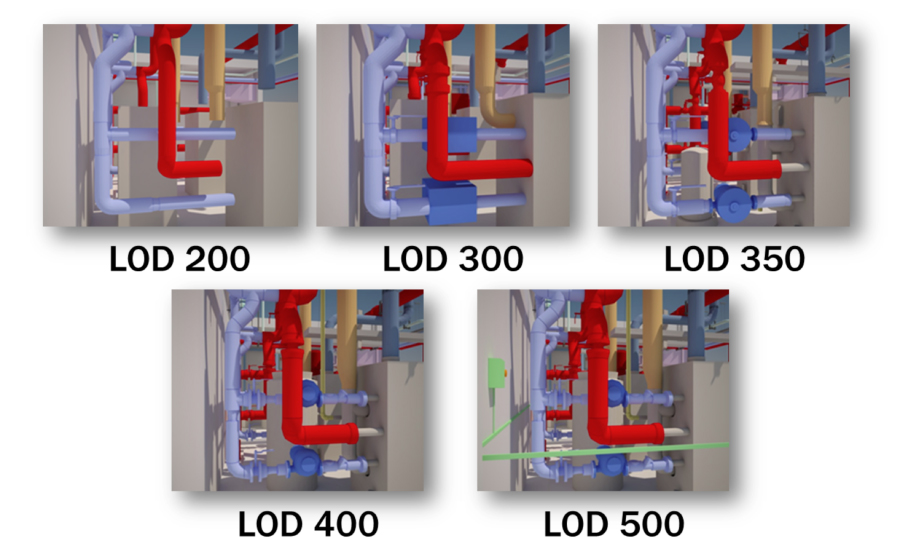 How is this different from level of detail?
Level of Detail refers to the amount of information provided. With level of detail, it is assumed that all the provided information is relevant to the project and can be relied upon with certainty.
Here is an image of a level of detail comparison table. Notice how in this case the amount of information increases proportionally to the amount of detail in the graphic representation.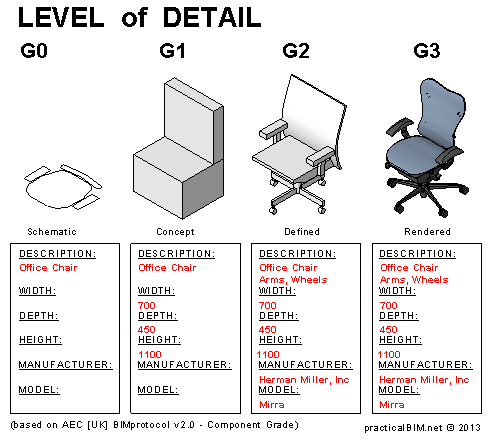 To avoid the development vs. detail confusion, several independent organizations have come up with alternative names for level of detail. Some of the most common ones include:
AEC (UK) BIM Protocol (used in the above graphic)
"Graded Component Creation"
G0 – Schematic
G1 – Concept
G2 – Defined
G3 – Rendered
CIC (Penn state)
"Information Level of Detail" – AKA "Info"
A – Accurate size & location, including material and object parameters
B – General size & location, including parameter data
C – Schematic size & location
USACE M3
"Grade"
A – 3D + facility data
B – 2D + facility data
C – 2D, part of an assembly or text description
Relevance in scan to BIM projects
In scan to BIM projects we are predominantly interested in level of detail since there is certainty about a specific object existing in a particular space at the time of the scan. The real issue is how much we know about the object aside from its physical dimensions.
The level of detail we go up to depend on the project.
Models designed for facilities management require going up to a G2 level of detail. In this case information additional to the scans needs to be collected on site. For example, when we worked on the Willis Tower model, we collected additional information about antenna specifications to be attached to the modeled objects.
Models used for historic preservation and rendering require going to a G3 level of detail as the level of graphic detail becomes particularly important in such projects. Some example of these projects include the Bronx Mansion and the Clock Tower Building.
Projects that are being used for tenant improvements may only need to be modeled to a G1 level of detail. It is enough to know where walls, openings, casework and major furniture items are. It is not necessary to create custom families for object that will not be altered during the tenant improvement. It is enough to use generic families that delineate the space occupied by the object.
We do not work in the G0 level of detail, since it is a 2D detail level.
Take away
Before starting a scan to BIM project, understand what you are ultimately using the model for and decide what level of detail will serve your purpose best.
Choosing a level of detail that is too high will result in a model that is large, slow and cumbersome to use. Choosing a level of detail that is too low will result in a model that doesn't give you this information you're looking for.